How RAP Works: 
Applicants select the grant mechanism, not the funding agency
Funding agencies select the awardees
3 Easy Steps to Apply: 
Find the grant mechanism that is best for you 
Write the grant proposal for the chosen mechanism following the grant-specific instructions
Submit your grant proposal via the RAP PORTAL   
Fall 2020 Highlights
RAP News
Recognizing Outstanding Reviewer Commitment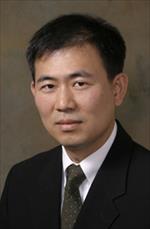 RAP acknowledges Youngho Seo, PhD for his exceptional contribution as a RAP reviewer. Dr. Seo has generously served for many years as a  faculty reviewer for not only one, but two RAP review committees - Digital Health Research and Technology.
Dr. Seo brings expertise in physics, radiology and biomedical imaging.  Not just highly reliable, Dr. Seo is a very engaged reviewer, sharing his knowledge and time, as well as providing insightful input to stimulate effective proposal discussions at every bi-annual committee cycle meeting.  Dr. Seo's commitment contributes to RAP's success and for this, we are grateful.  His ongoing service to the University is essential to our mission of seeding outstanding research!